WHAT WE DO
The Fremont Branch sponsors seventh grade girls from the Tri-City area to attend Tech Trek each year. Girls are recommended by their Math and Science teachers and are selected through a rigorous application and interview process. The selected girls attend a one week residential camp at Camp Curie at the Stanford University Campus. For more information on Camp Curie visit http://techtrek-stanfordmc.aauw.net
The Tech Trek scholarships, at $1000 per participant, are funded by the branch through donations from our members, supporters and local businesses that value the importance of gender equity in STEM. For more information on these scholarships in the Tri-city area, or to make a donation, contact lethastem@gmail.com.
Tech Trek 2018 Camp Curie@Stanford University
Months of preparation that commenced back in November 2017 culminated in two week of high energy, when eighty tech trekkers selected by AAUW branches from Monterey to Healdsburg and Palo Alto to Walnut Creek and Livermore across the bay gathered at the Stanford campus early July.This included our six tech trekkers selected from the tricity public schools who attended Camp Curie during the first week. Camp Hopper followed in the second week. The girls were closely supervised by dorm mom volunteers from various branches and returning tech trek alumni counselors, including our very own Vanshika Sharma (Tech Trek 2015). For five exhilarating days the girls engaged in STEM related core classes, heard from inspiring guest speakers from the STEM field, learnt life skills like managing your money, took field trips to STEM related sites including the artificial intelligence lab at Stanford University, had fun at the Stanford fountains, star gazed at astronomy night and got a taste of life in the Stanford dorms.
Branch members were invited to visit the camp on Thursday of camp week. Fremont branch was represented by our newest member, Alice Chindblom and long time AAUW member and Tech Trek advocate Judy Wolf. Judy, who is now a a lifetime National member, joined AAUW back in 1978 and served as our President from 1996-97. She has been an advocate for Tech Trek since its inception in 1998, not only as a major annual donor but also putting in time as a dorm mom at various camps in California for nine years. Our Tech Trek committee members also participated at Camp Curie this year: Karen McCready and Nalini Dornadula helped to check-in the 80 girls on Sunday evening, Shuchi Sharma helped the girls learn how to 'manage' money at Mad City on Wednesday, and Letha Saldanha spent the two weeks onsite both as IT support and assisting the girls with coding at the app inventor core class. It certainly takes a village of AAUW members to plan and execute the Tech Trek camps
Tech Trek 2018: Tech Trek Alumni welcome the new Tech Trekkers
STEM Discovery Day/Pathways to STEM.
Since 1991 the Fremont Branch has sponsored STEM Discovery Day, a morning of fun and learning for girls in 3rd to 6th Grades and their mothers or other female adult role models. The program focuses on encouraging young girls to be excited about STEM through a series of hands-on STEM activities presented by professional women and alumnae of our Tech Trek program. Mothers enjoy spending the morning with their daughters, and our Tech Trek alumnae have the opportunity to further explore and sustain their interest in STEM through high school while being a role model for the younger girls coming up the pipeline. We are proud of our returning mother/daughter pairs who attend the program from 3rd Grade through 6th Grade.
---
What our STEM Discovery Day attendees say:
This is the most amazing event I can share with my girls. My 3rd grader had been telling her sister all about what she learned today!
I especially applaud the many young instructors who were given the opportunities to teach and show how poised, intelligent and well spoken they all were for being high schoolers. Again, just loved it and my daughter loved it too.
It was our first time here..she want to come back and do all of them, tomorrow! Thank you for all your hard work, it was a wonderful experience!
We are grateful to have such an inspiring girl-focused STEM event in our area. A huge thank you to everyone who helped make it possible.
This is our last year for the Discovery Day, and so it was a little melancholy. It has been wonderful to attend for the last 4 years, and has fostered so much discussion and creativity, giving a terrific sample of the fun of STEM pursuits. Of all of the sessions, we most enjoyed the Planetarium (we did go 4 times!), and the teacher there is truly a treasure – different each time, relevant, fascinating, just love it. Second favorite was the animal brains (last year or the year before?). While the girls were very reticent in the beginning, by the end of the session they all were touching, inspecting and THINKING about brains, not just as zombie-food but something to be considered and studied. The squeamishness disappeared, in no small part thanks to the young lady volunteers in the classroom. Anabelle still talks about that class! Please do continue to provide this program, I truly believe it is the first time some of these young women consider this profession outside of their grade-school work, which as we know is not necessarily encouraging. As an Engineering degreed woman, I am thankful for your group's work in fostering the next generation of powerful, thoughtful women.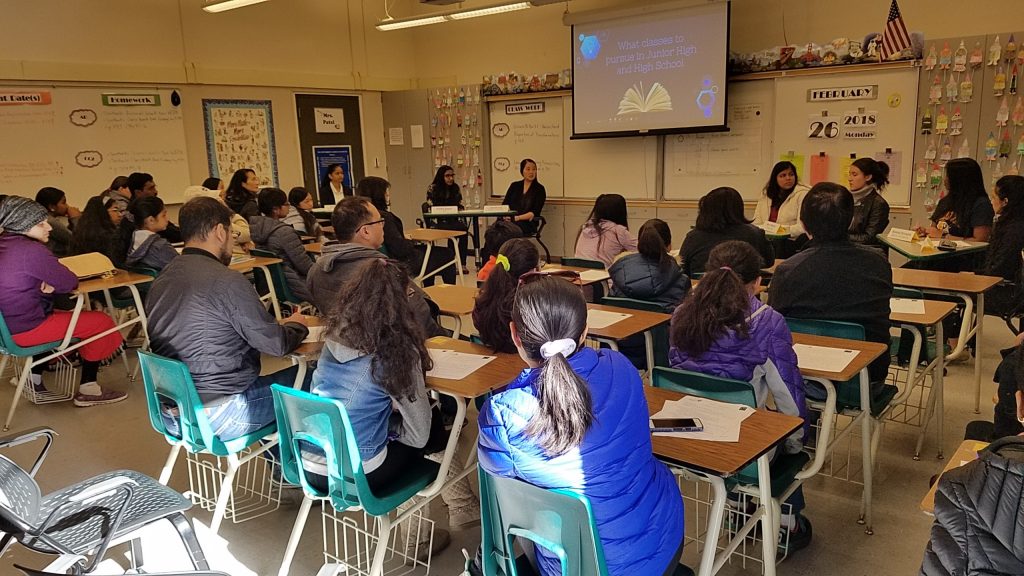 In February 2018, we extended our 'STEM Pipeline' program for girls to a 'Pathway to STEM' through high school, with an interactive panel discussion for 6th, 7th and 8th grade girls and parents. Panelists from the tech industry, current college students pursuing STEM, and high school juniors and seniors discussed how they continued to stay engaged in STEM as they moved through middle and high school and on to careers in STEM.
What our Pathways to STEM attendees say:
My daughter definitely felt the event gave her the right sources and it was encouraging for her to learn from girls who have been through it
As a parent, I felt the time well spent and the discussion very useful. It had very useful pointers as well as how engineering can be integrated with other sciences
STEM Discovery Day 2018-2019 schedule:
5th and 6th Graders: Saturday, November 3rd, 2018
3rd and 4th Graders: Saturday February 23rd, 2019
Past Events:
5th and 6th Graders: Saturday Nov 4th 2017: See and Read what they did and said
3rd and 4th Graders: Saturday Feb 24th 2018: See and Read what they did and said
Contact Email: AAUWFremontBranch@gmail.com