Our Mission Statement: Advancing gender equity for women and girls through research, education, and advocacy.
The American Association of University Women (AAUW) is the nation's oldest and largest organization for women. Founded in 1881, AAUW advances gender equity for women and girls through research, education, and advocacy. It is one of the world's largest funders of graduate education and career development for women and has provided over $140M to more than 130,000 grantees in 145 countries. Headquartered in Washington, DC, AAUW has 1,000 branches nationwide with over 170,000 members and 800 college/university partners.
The Fremont Branch serving the Tri-Cities of Fremont, Newark, and Union City, was founded in 1961 by a group of thirteen local teachers who aspired to promote gender equity through STEM education and community activism. Each year our Branch raises funds to sponsor: Mother-Daughter STEM Discovery Day for elementary school students in collaboration with local school districts, Tech Trek summer residential camps for 7th graders, Speech Trek competitions for high schoolers, and Ohlone College Scholarships for women college students to cover tuition costs and registration fees for AAUW's annual National Conference for College Women Student Leaders.
Our Branch also hosts Interest Groups to support the creative pursuits of our members: Afternoon Lit and Evening Book Talk book clubs, Cultural Cuisine, Exploring the Arts, Money Talks, Tuesday ESL Chat at Fremont Main Library, Yoga For Body and Spirit, and the One Book, One Community Read Project, which is done  in collaboration with the Alameda County Library, the Fremont School District, and the City of Fremont.
_____________________________________________________________________________
Public Policy Update
By Jeanne Delp
In the November Twig, Jeanne discusses how AAUW-CA is providing tools–including a webinar and a Toolkit–as part of its School Board Project, designed to reduce book banning in the schools. The project has a greater chance of success if we all participate.
To read this or any of Jeanne's previous Public Policy columns, click HERE.
---
---
 Branch News
Our annual family holiday celebration proudly presents the Daily Beats Band headlined by our fabulous multi-instrumentalist member Gene Wang and Grammy Award-winning tenor sax player, Ben Torres. Register HERE!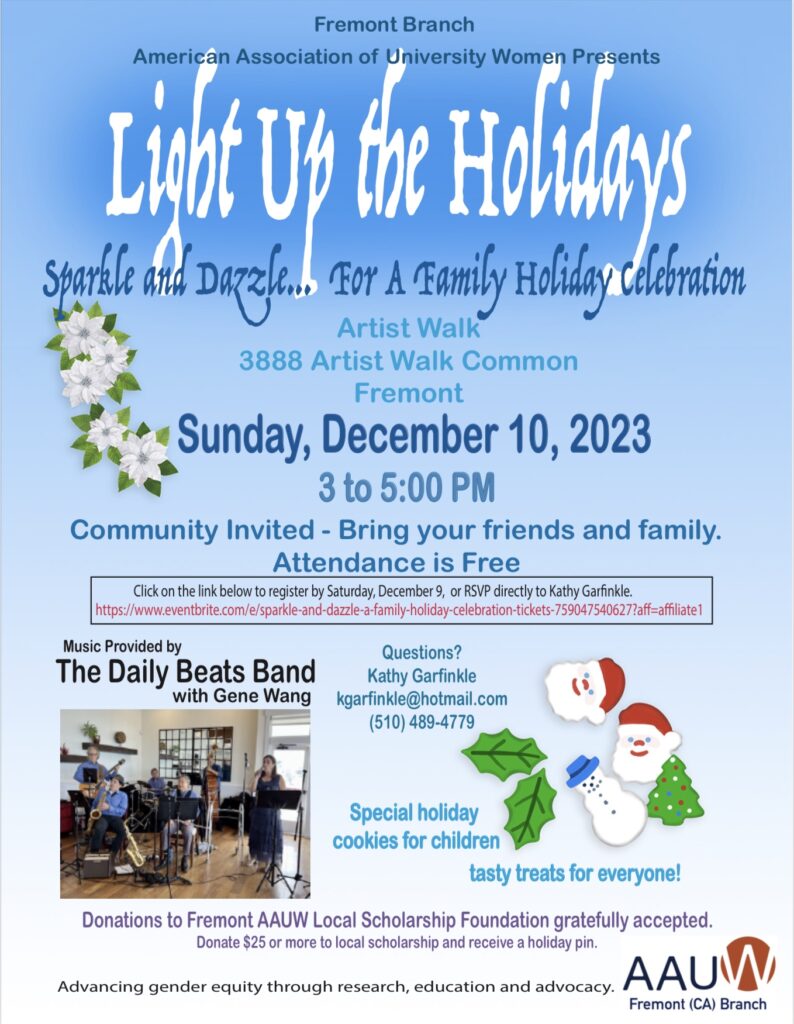 ---
---
Our Fall Brunch, held October 7th, was a great success, with members gathering at Niles Discovery Church to enjoy brunch and our guest speakers: our 2023 Tech Trekkers, Alice Manfredi, and our keynote speaker, Dr. Evelyn LaTorre, award winning author of Between Inca Walls and Love In Any Language.

---
---
We are proud to host our 4th annual Speech Trek program for Tri-Cities high school students. Since our inaugural year, every Fremont branch winner has advanced to the state finals!
---
---
Our 2023 One Book, One Community Read Project featuring Amanda Gorman's The Hill We Climb kicked off American Library Association's 2023 Banned Book Week from October 1-7, 2023.

---
---
Senator Josh Becker shared how he plans to lead our state and country with transformative climate legislation to accelerate CA's transition to 100% clean energy and net zero emissions.

---
---
Our FY24 Board of Directors were installed on June 10th at a luncheon generously hosted by Cogir of Fremont. From left: Jeanne Delp, Kris Sandoe, Carolyn Hedgecock, Kimmi Tang, Jo Szeto, Phie Dai, Jennifer Foster, Kathy Garfinkle, and Randy Fewel.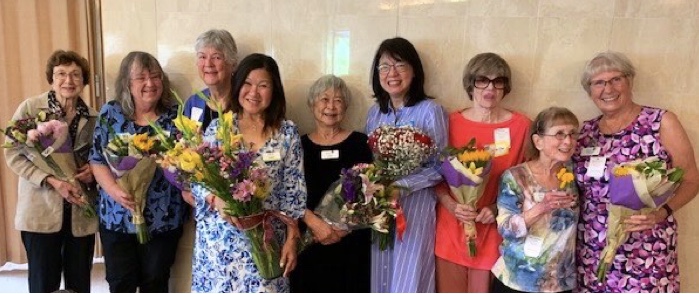 ---
---
Tech Trek Class of 2023 and their families mingled and connected over delicious ice cream sundaes on May 21st. This year we sponsored 7 campers to a week of STEM enrichment and fun at Sonoma State.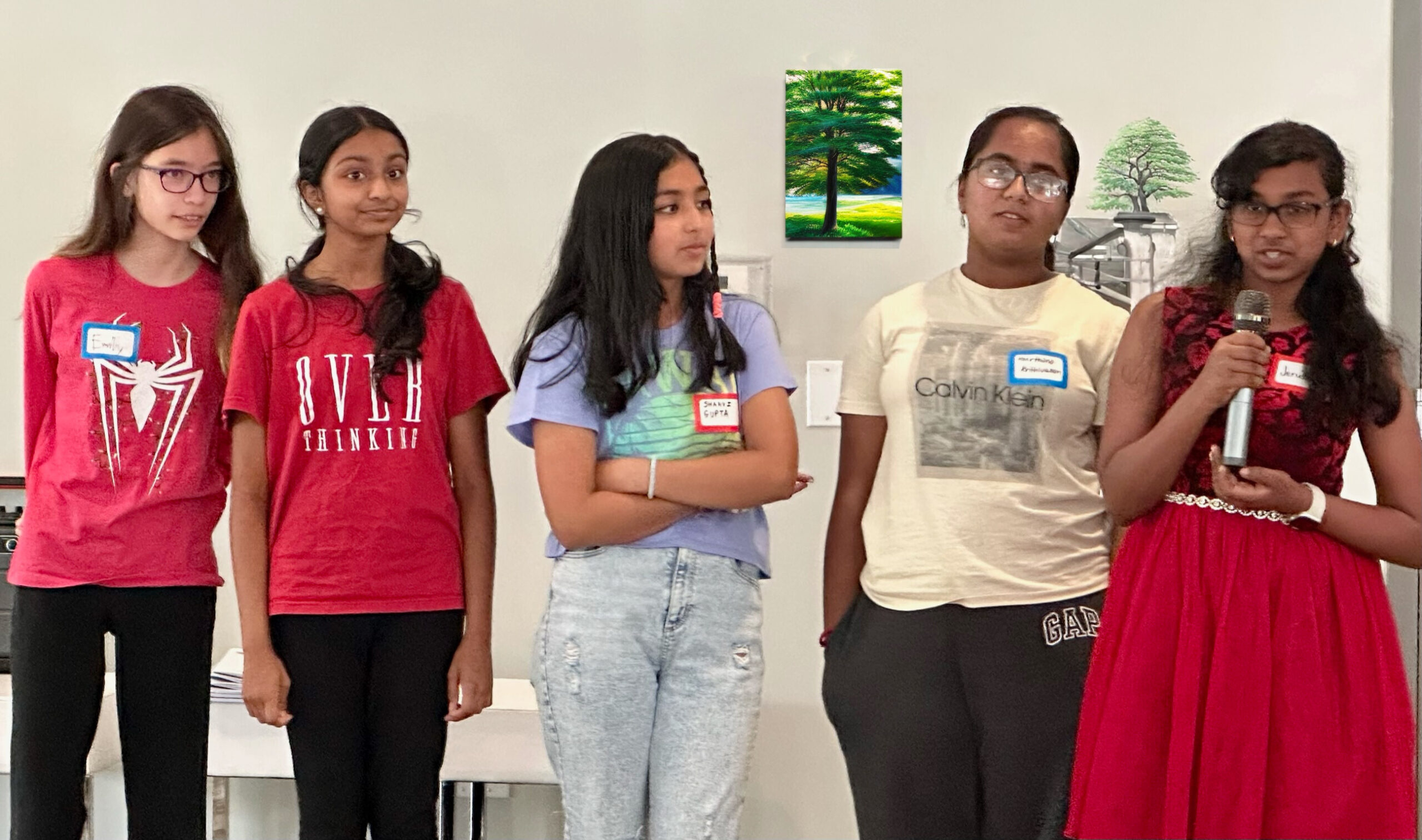 ---
---
At the 2023 Ohlone College Gender Fair held on April 19th, we handed out more than 200 Equal Pay cookies baked by our members to call attention to the gender wage gap that AAUW is working hard to address: on the average, women are paid 20% less than men.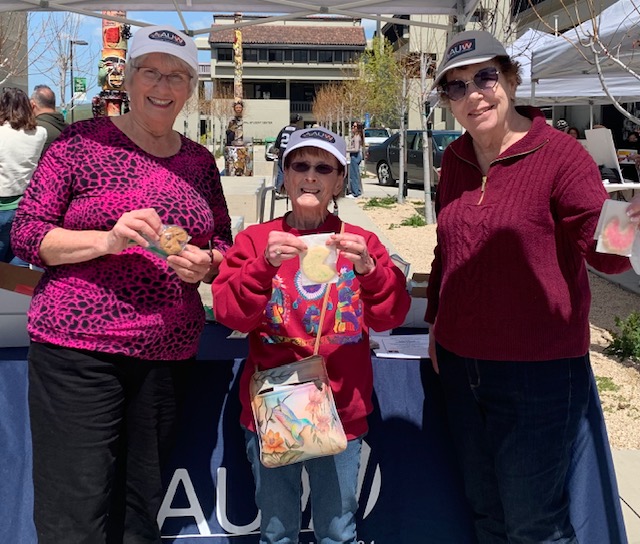 ---
---
Fremont Branch's intrepid globetrotters wowed the audience with their adventures of cycling through Europe and New Zealand, and traveling solo through 16 countries at our annual Women's History Program on March 18th.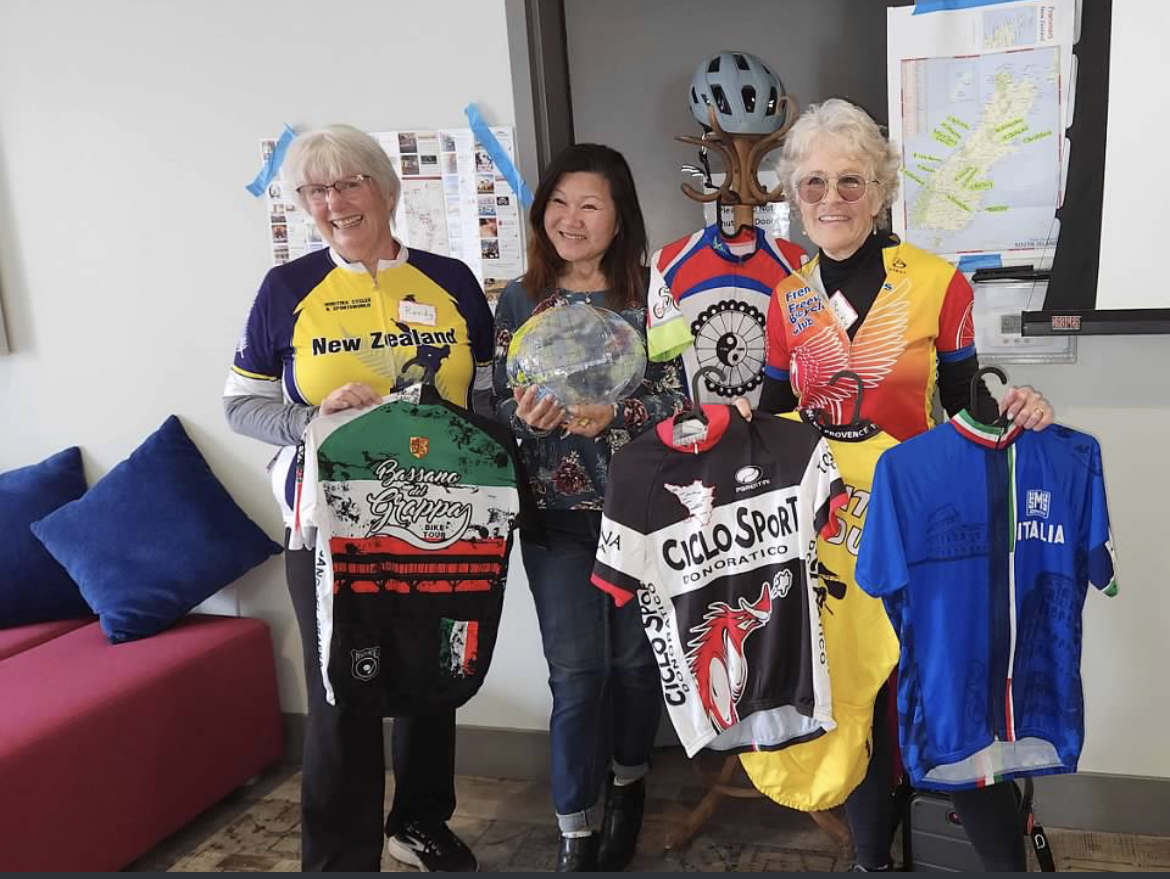 ---
---
Twenty five mother-daughter teams enjoyed coding with Scratch, and building catapults, rockets and towers at our 32nd STEM Discovery Day on March 4th. For more information on this year's Discovery Day, see 2023 Discovery Day.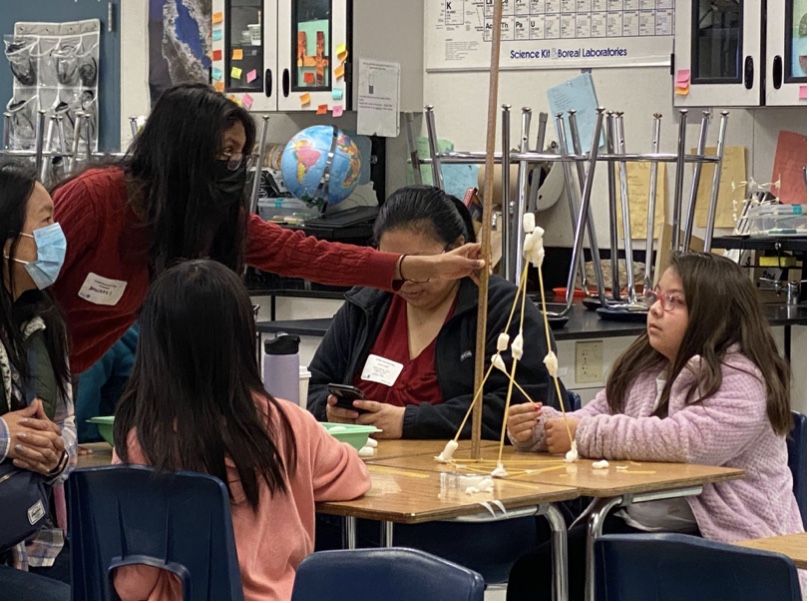 ---
---
Our keynote speaker for the 2023 Bi-Branch Fellow Luncheon held jointly with our Hayward-Castro Valley sister branch on February 4th at the Dominican Sisters of Mission San Jose estate was Amal ElWardi, AAUW Career Development Grantee and MFA candidate at St. Mary's College. She enlightened the audience with how somatic education, the practice of using intentional physical movements to improve learning and mental wellness, have been proven highly effective in the classroom, especially with teenage girls.
---
---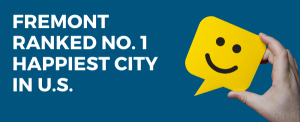 In 2023, WalletHub named Fremont as the happiest city in America for the fourth year in a row. It has the lowest depression rate and the lowest separation and divorce rate. WalletHub compared more than 182 of the large cities nationwide and looked at 30 key indicators such as a city's income growth, life expectancy, and job opportunities.