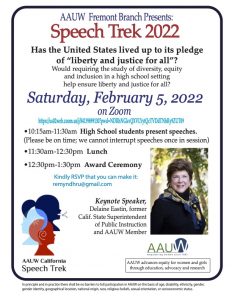 ---
---
Fremont Branch received an "Activity of the Year Award" from AAUW California for our recent project called "A Step in the Right Direction" where we collected new shoes for those less fortunate.
---
RECORDING IS AVAILABLE!   See BELOW!!
If you missed the presentation by Dr. Yulan Wang on Robotic Medicine, it has been recorded.
It can be accessed with the following link and password:
---
---
Our 2020-2021 Fremont AAUW Board
Pictured at a Zoom Board Meeting a few months ago
From left:  President Kathy Garfinkle, Membership Chair and TWIG editor: Mary Lynn Pelican
Randy Fewel, Local Scholarships, Program Planning, Jeanne Delp, Public Policy, Carolyn Hedgecock, Marylouise Bailey, Kris Sandoe, Jo Szeto, Program Chair,
Membership Finance, Secretary, Kimmi Tang, Finance Officer, Letha Saldana, Tech Trek, STEM, Remy Parmar, AAUW Funds Director, Speech Trek, Pathways to Law, and Kathy McDonald, Zoom afficianado.
---
---
---
CLIMATE CHANGE—WE CAN ALL CONTRIBUTE TO SOLUTIONS
Have you ever thought that climate change is such an enormous problem that there is very little you can do?  Well, think again.  Learn about the Fremont Green Challenge, and how we can all work together to ensure a more resilient future.
Patrick Jurney from Community Climate Solutions will offer a presentation of his work with the City of Fremont, and engage us in a discussion of how all of us can contribute to climate solutions in our own community.
Sponsored by the League of Women Voters of Fremont, Newark and Union City(LWVFNUC) and the American Association of University Women (AAUW), this program will take place via Zoom on:    March 4, 2021    6:00 p.m. – 7:30 p.m.
Register for this Zoom program at the League of Women Voters website:  www.lwvfnuc.org
---
Public Policy
By: Jeanne Delp
The beginning of a new year is traditionally a time of reflection and examination, of learning something new, and perhaps setting new goals. We can say the same for AAUW. The following is taken from AAUW 's Public Policy and Legal Advocacy Team: AAUW is proud of all we've accomplished this year to advocate for women and girls throughout the pandemic, and we will continue to hold our elected officials accountable to the American people as we march onward in our efforts to heal the country. We look forward to welcoming 2021 and embracing the progress to come. ACT LEARN ENGAGE ACT: Take action on the most pressing policies Be ready for quick and strong actions when the 117th Congress convenes. LEARN: Dig deeper into issues that matter: Over the last month, AAUW has communicated with the Biden-Harris transition team about the actions we and our coalition partners would like to see the incoming administration take to support the economic security and education of women of girls. COVID-19 has had an unprecedented impact on women and people of color, and we must take bold steps to address economic disparities and inequitable educational opportunities that have been exacerbated by the pandemic. We asked the Biden-Harris Administration to focus on equity issues, including increasing the minimum wage, advancing pay equity, canceling student debt, suspending implementation of the new Title IX rule, and prioritizing gender and racial equity across departments and programs. We also urged them to appoint candidates to key cabinet positions who have a deep understanding of systemic barriers to equal opportunity faced by historically marginalized communities and have a record of advocating for the civil rights of all working people and students they serve. ENGAGE: Share the important work we're doing Access the AAUW Diversity, Equity and Inclusion (DEI) resources, which share best practices for AAUW members and others to incorporate inclusive practices into their branches and daily lives. Ensure you engage in every AAUW action in the new year and become a Two-Minute Activist today. https://www.aauw.org/resources/policy/documents/
---
---